Rise & Shine is a 6 week course for adults beginning Monday 15th September from 8:30pm to 10:00pm in the Edmund Rice Heritage Centre, Waterford.
Cost for the course is €60, and a deposit is require to secure your place.
Contact Colette on 085-8551155 or email colette_savage@hotmail.com for more information or to book your place!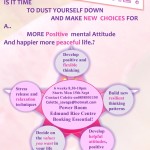 Course Information:
This course has been designed to enable you to create new positive thinking patterns, attitudes and beliefs which if you choose to apply them will transform your Life. With practical examples, time to try out your new skills  and explore these techniques with a group of likeminded people, you will have the opportunity to make new positive changes for a happier more peaceful life.
Sound interesting? Then come along with an open mind, a smile and an enthusiasm to create something new in your life.
Each week (or section of the weekend course) will cover practical techniques and how to apply them.
Week 1 Relaxation and stress release – There are many simple yet effective ways to support yourself in relaxing and releasing stress, this session will introduce various techniques for you to experience for yourself and decide which work best for you. Having a relaxed and peaceful mind actually enables you to be more alert, aware and able to think clearly.
Week 2 Looking at your values. Research has shown that our values determine much of our decision making, but we generally picked up our values as we grew up and unless we consciously review and evaluate them we may still be making choices based on values which actually no longer serve us. So in this session we will take out our values and look at them and make positive choices around which values are important to us. This will help refocus our choices    based on what is actually important to us.
Week 3 Develop flexible thinking. Again research has shown that those people who can maintain flexible thinking are actually the most successful, possibly because they always keep an open mind to possibilities and so don't miss them! Fixed or blinkered thinking keeps us stuck in old habits and leaves little room for positive change. So this session looks at great techniques to support us in flexible thinking.
Week 4 Developing attitudes– Whatever life throws up at us we may have little control over at times! We always have control over our attitude to an event, but are we actually taking control or simply relying on old unconscious thinking patterns to determine our attitude. So lots of fun and games discovering how to make positive changes to our attitude.
Week 5 Creating positive beliefs. Actually we first need to let go of limiting beliefs and we need to find those limiting beliefs in order to let go of them. So this week we will have a go at identifying our own limiting beliefs, how to let them go and how to create and install new positive beliefs. They used to believe the world was flat.. until they discovered it was round!
Week 6 Resilient thinking– What makes a person resilient? Possible one of the most useful thinking patterns to develop right now is resilience. It's a brilliant life skill which you can adapt to so many ups and downs of life. We will look at techniques to help you develop resilient thinking.