Teen Esteem is a 6 week course for teenagers beginning Monday 15th September from 7:00pm to 8:30pm in the Edmund Rice Heritage Centre, Waterford.
Cost for the course is €60, and a deposit is require to secure your place.
Contact Colette on 085-8551155 or email colette_savage@hotmail.com for more information or to book your place!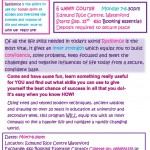 Course Information:
Resilience is the ability to use our human spirit to accept and overcome the stresses and trauma of life and remain true to who we really are!
Of all the life skills needed in today's world Resilience is the most vital, it gives an inner strength which equips you to build confidence, solve problems, keep focused and meet the challenges and negative influences of life today from a secure, confident base.
With a strong inner compass to navigate life you are well equipped to sail the ups and downs of all life's challenges.
Each week  the group will cover practical techniques and how to apply them.
Week 1 Flexible thinking = success! Research has shown that those people who can maintain flexible thinking are actually the most successful. It is a great skill to get you out of trouble when negative thinking habits or inflexible thinking keeps you stuck. Life will throw up lots of problems which you may not be able to change but you can always change your thinking, if you want to. Einstein the famous scientist said" You cannot solve a problem by the same thinking that created it!"
Week 2 What do you value? Who are your heroes and role models? Your values affect everything that you think and do but we are sometimes unaware of what values we are using to run our lives. You need to decide on what values are important to you so that when you are under pressure, you know what matters most to you, so it is easier to stick to whom you are and not what others may want you to be.
Week 3 Relaxation and stress release – How to you switch off, release stress or build quiet time into your life? Even teens need downtime in order to keep a balanced mind. There are lots of ways to do this so this session looks at different techniques which you can then choose from.
Week 4 Be attitude! – Well teenagers are all about attitude, so what do you need to learn? Having the ability to hold onto a positive attitude in the midst of a life drama situation is a really valuable skill. As a teenager you can experience times when you cannot control life events and all you can do is take control of your attitude and get through it. So lots of fun and games discovering how to make positive changes to our attitude.
Week 5 Finally, Resilient thinking– What makes a person resilient? Possibly one of the most useful ways of thinking to develop right now is resilience. The ability to pick yourself up, dust yourself down and keep going is a frame of mind and you CAN develop it… and then use it!
Week 6 Putting it all together = an amazing toolkit! This week is all about YOU. How are you going to apply these techniques, how are they going to impact your life and what changes do you want to work on going forward.