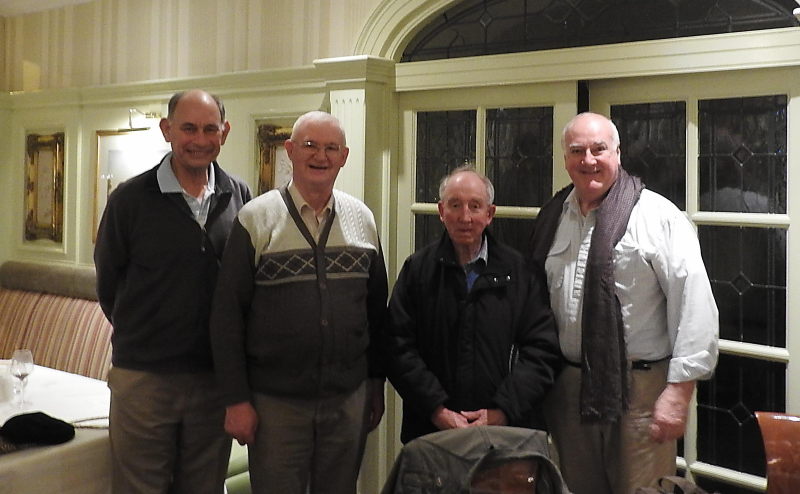 International Edmund Rice Brothers in Mount Sion
An International Community of Brothers lives in the monastery in Mount Sion. Christian Brothers John Hearne from Waterford, Peadar Gleeson from Tipperary, and Gerry Buzolic and Michael Dredge both from Australia make up the International Community at Mount Sion.
Br. John Hearne, cfc
Br. John Hearne was born in Tramore, Co. Waterford and received his early education in Tramore C.B.S.  He joined the Christian Brothers in 1962.  John has taught in primary schools in Greystones, Ss. Peter and Paul's, Clonmel, and Scoil Iosagain, Dublin.  After studying Irish, French and Catechetics in U.C.D. he taught in secondary schools in Dun Laoghaire, Youghal and Thurles.  Recently he taught in the Life Centre, Cherry Orchard.  For three years John served as Vocations Director.  He has also been involved in Boards of Management at primary and secondary level.  He served as Community Leader in Youghal, Thurles and Mount Merrion.  John joined the Mount Sion community in September 2012 and is glad to be back on home territory where he looks forward to following the fortunes of the Déise.
Br. Peadar Gleeson, cfc
Br. Peadar from Tipperary has taught both Primary and Secondary level in Ireland for many years. Ten years teaching in Mount Sion Primary School, combined with eight years in Formation, eight years as Secondary School Principal in Co. Clare are among his experiences. He has special interest in students who find it hard to cope with mainstream education and has seven years experience in this. Peadar came to the International Community in Mount Sion in 2007 and works in hospitality..
Br. Gerry Buzolic, cfc
Gerard was born in Brisbane Australia in 1955. After teaching in Queensland schools he moved to Papua New Guinea in 1988. He taught in all four regions of Papua New Guinea—Southern, Momase, Highlands and the Islands—in the thirty years he has lived in that country. His work has been in teacher education, preparing nationals to teach in primary schools in some of the most remote places in the country. He was a founding staff member of Sacred Heart Teachers' College in Port Moresby. He helped set up the Rural Ear and Eye Service East Sepik, training teachers, nurses and community health workers in primary ear and eye health care. His special interests have been in teaching science and computers, computer programming, Jungian psychology, birdwatching, boomerang throwing and recently photography. For two years he was full-time carer for his father who suffered terminal Parkinson's disease. While he still calls Australia home, he is proud to be living in Waterford as part of the Christian Brothers community, in the place where Edmund Rice lived and worked and the brothers began.
Br. Michael Dredge, cfc
Brother Michael is from Australia, where he was born in Queensland.  he has taught in our schools in both Queensland, and in Sydney, New South Wales.  Though he is obviously Australian, his ancestry is from both Wales and Ireland.  In fact, his mother's side of the family came from Kilkenny.  He became a Christian Brother 50 years ago in March 2019.  For many years he was a secondary teacher and administrator. Since 2000 he has been involved in adult education as a specialist English language teacher.  The last fifteen years have seen him involved in helping the many overseas priests, sisters and seminarians coming to Australia.  As well as teaching for the Catholic dioceses in Sydney, he has travelled to Asia as an English instructor for dioceses and religious orders in Vietname, Papua New Guinea, the Philippines and China.  Most recently, he has been teaching English at university in Chongqing, China, in a role associated with the Columban fathers and sisters.  If anyone is interested in going to China, perhaps as a teacher, he would be very happy to discuss that with you