Our Vision at the Edmund Rice Centre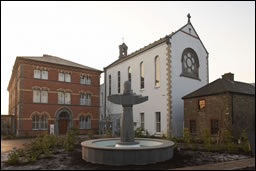 Our vision is that the sacred space of Mount Sion would incarnate in a way relevant to today's world, the enduring values of the gospel and of the Edmund Rice tradition.
Our vision is that Mount Sion will be a place relevant to the lives and search of people today, particularly the young and in a special way those who are poor and marginalized.
Our vision on this holy ground is to foster:
An international community of Brothers resident in the monastery building on the second floor which gathers around the Eucharist and the Word of God, fostering hospitality and promoting a spirituality of faith doing justice.
A vibrant heritage centre which tells in an inter-active way the Edmund Rice Story and the story of the Brothers today in a way that challenges people to engage with the mission of Edmund Rice in our contemporary world.
A new chapel for pilgrimage and prayer that continues to be relevant and meaningful to people as well as housing Blessed Edmund Rice's remains. The Chapel overlooks the city of Waterford and incorporates the stained glass windows from the former Blessed Sacrament Chapel.
Hospitality to groups on the ground floor of the monastery for conferences, workshops and meetings in the well-appointed conference rooms as well as catering facilities.