Edmund Ignatius Rice,
1762 – 1844,
From Callan to Waterford
Edmund came from the small town of Callan in County Kilkenny where he was born on 1st June, 1762 and where his family was involved in extensive farming. His parents saw to it that Edmund was well educated. He was intelligent and showed early signs of good business acumen.
When he arrived at Waterford city, there was no bridge spanning the river. He availed of the ferry to cross the Suir. He viewed, probably with some amazement, the finest waterfront in Europe – second only to Hamburg. He saw boats and ships from Spain, Portugal, France, Newfoundland and Canada. He witnessed the busyness of Waterford Quay as ships were loaded and unloaded. Here he saw at first hand the prospects that awaited him. He knew that his uncle Michael provided supplies for these ships.
Edmund's family home in Westcourt, Callan, was a place of security and support. He had lived there close to nature in rural Ireland. His father, Robert, was known to be hardworking, honest and a shrewd businessman. Neighbours would have been well aware of his success. His holding, created from four different farms, was the envy of the locality. Both the Protestant gentry and the Catholic majority held Robert Rice in highest esteem.
Edmund's mother, Margaret Tierney, had married twice. Following the death of her husband, Mr. Murphy, she was left with the care of the farm and two daughters, Jane and Joan. In time, she married Robert Rice, with whom she had seven sons, Thomas, Patrick, William, Edmund, Richard, John and Michael. The large thatched house, with nine children, must certainly have been a lively place as Margaret Rice prepared the meals and provided for her growing family. Edmund was aware that there were many children in the locality not as fortunate as he and his family. Their needs were also catered for and Margaret Rice never let a hungry child pass her door.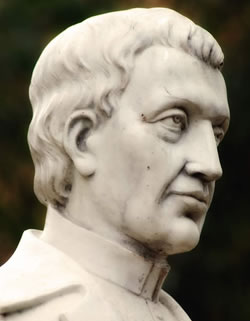 The family's religious faith was well developed. Despite the Penal Laws, then in abeyance, the family attended Mass each Sunday, either in the Parish Church or in the Augustinian Friary. Edmund's parents were well aware of the struggle to keep the faith when priests were banished from the country; all Catholic schools closed; and when Catholics were debarred from many professional, political, military and legal positions. Edmund would have known his mother's cousins, Fathers Daniel and James Tierney, who were members of the Augustinian Order. She gathered the children round the table in Westcourt when Father Patrick Grace, the saintly Augustinian, known as An Bráithrín Liath, "The Little Grey Friar", visited the home. He was both teacher and catechist. Later in life, Edmund gave credit to this holy man, as he did to James White, his teacher in Kilkenny, for the wonderful iterary and religious education he received. Edmund';s brother, John, eventually became an Augustinian priest.
Before leaving home Edmund saw his eldest brother, Thomas, set up business in Callan. His two sisters would eventually settle down to married life. The rest of the family was preparing to continue the work on the family farm. Love and pride for his native place filled his heart. He returned home at every available opportunity. Years later Edmund chose that home in Callan for his daughter.
Sitting in the ferry crossing the river, Edmund faced the new world ahead of him but he did not turn his back on the secure, happy, family home which nurtured him and made him what he was.