Farewell to the Edmund Rice International Heritage Centre by Br Liam Deasy
All roads led to Mount Sion on the morning of Saturday, February 16th, 2019.
It was a bitter-sweet occasion on which we celebrated the work of all those involved, while saying our last farewell to all those who brought it through thirteen years of ministry since it was founded by the Congregation Leadership Teams of the Presentation and Christian Brothers in 2006.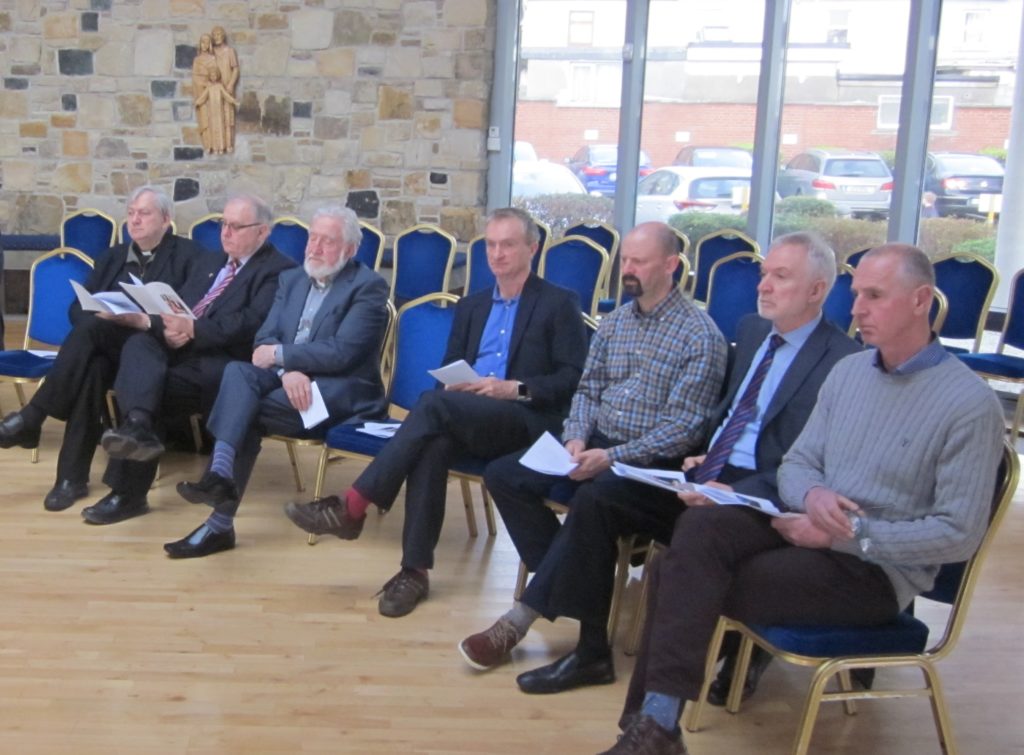 As we gathered in the beautiful Edmund Rice Chapel I recalled those who had brought their dream to reality and who were not here to share this occasion with us: – Bro Philip Pinto, Bro Michael Godfrey, Bro Declan Power as well as Mr Barry O'Brien, Mr Andy and Kylie. Kupe Nor should we forget Brothers from around the world who came let their light shine on the sacred Mount Sion: Brothers Sean Whitty, Ian Robertson, Dan Herron, Peter Hardiman, Peter Clinch and Steve Hale.
On the other hand we were blessed with the presence of Brothers Martin Kenneally fpm, Peter Dowling and John Casey from the present CLT and Bro Edmund Garvey, Province Leader of the European Province. Also present with us were Bro Séamus Whelan, Bro Kevin Mascarenhas fpm and Bro Phil Ryan, all of whom had done Trojan work at the
Centre over the years and who had now moved on to other ministries. Brothers Peadar Gleeson, John Hearne and Addie Pinto who form the 'bridging community' between the past and the future were also present.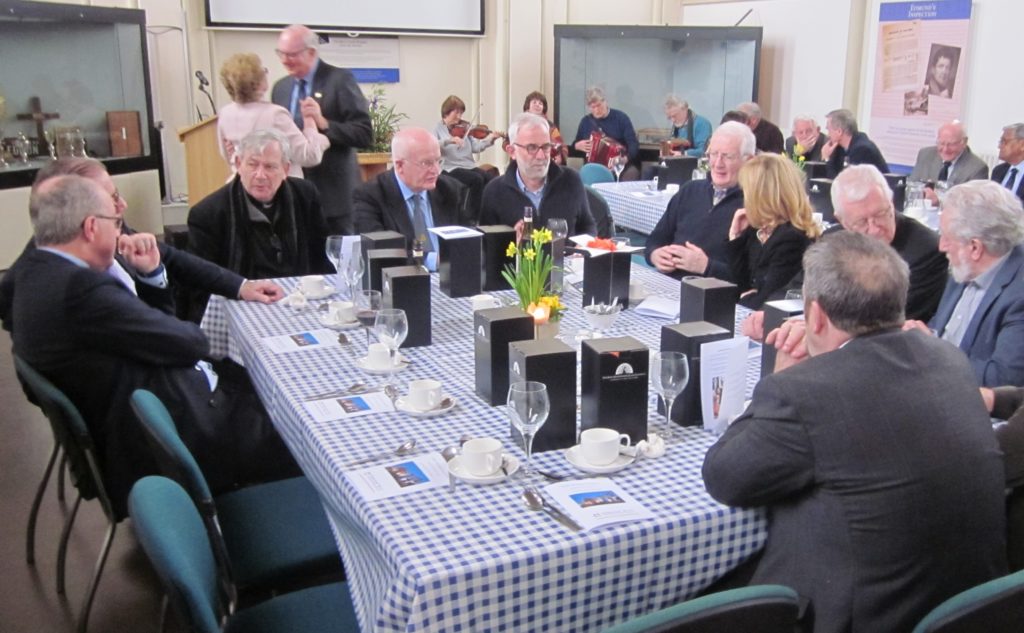 It was so inspiring to meet people from
Waterford and beyond who have consistently supported everything we dreamed of and undertook over the years: Bro Michael Murray (Chair of Directors), Bro John Burke, Bro Paddy Fitzgibbon, Bro Denis Minehane, Bro John Hunt, Bro Damien Brennan, Bro Walter Hurley, Fr Michael Mullins (PP), Frank O'Regan (Chair BoM), Gerard Deegan, Tomás Ó'Cinnéide, Miriam McGrath, Nuala Colfer, Bill Doherty, John McArdle, Michael Walsh, Lorna Kearney, Tony Power, Jim Ryan, Tracy O'Connor, Stephanie Burchell, Catherine Donovan, Phil & Elaine Brennan and Ms Nicola Keogh (L&P) who had steered us through the many twists and turns involved in setting up the Company initially, its smooth running as well as directing us in the winding down of the Company. Meeting people like that is so exciting that we can be assured that the spirit of Blessed Edmund Rice is alive and well in the city of his adoption.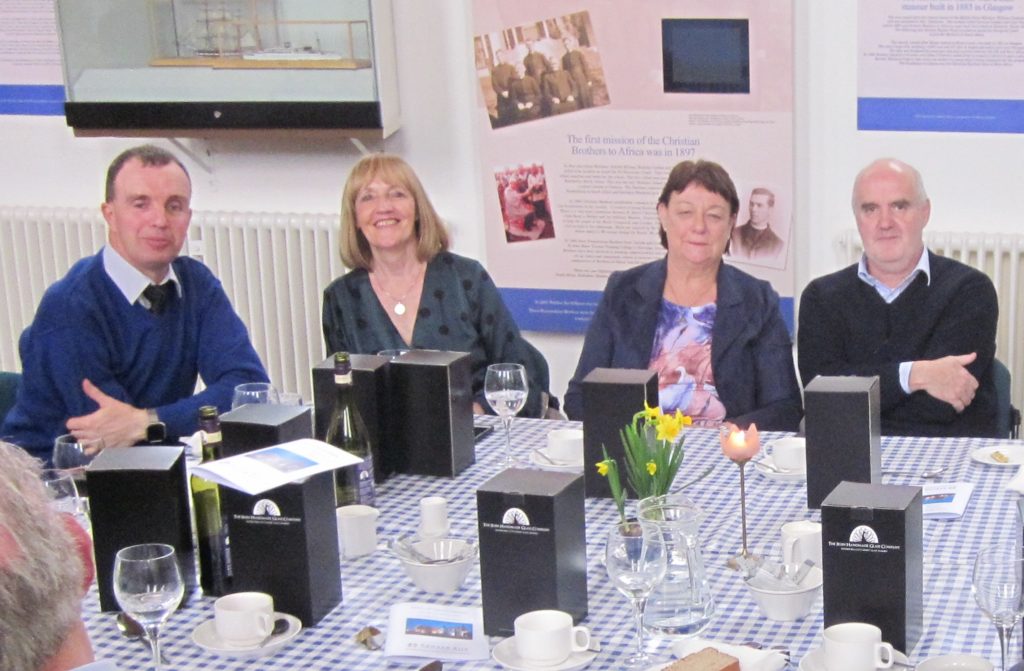 The ceremony itself was very well planned and
laid out by Ms Monica Leech, Ms Nuala Colfer and Ms Dawn O'Brien. As we entered the Edmund Rice Chapel the musicians of Comhaltas Ceoltóirí Éireann played haunting Celtic airs to establish a prayerful atmosphere in that sacred space. After a formal welcome by Bro Liam Deasy, Nuala introduced and proclaimed the Scripture Reading for the day (Lk 4:16-21). This was followed by reflective music before Bro John Burke read an extract from the original poem, "tÁr sa Mhainistir" by our own Johnny Carroll and Dawn followed up with reading the English translation of the piece. Ms Bríd dePaor then sang "A Mhuire Máthair" and Nuala read the poem "Begin" by Brendan Kenneally, followed by more Celtic airs.
Brothers Edmund Garvey
and Martin Kenneally then addressed the gathering. Martin reflected on the
journey of the Centre to date and Edmund looked forward to where we may be led by God's Spirit into the future. And then, to the strains of uilleann pipes,accordians and violins we were wafted up the stairs to the Ship Room which was laid out for a sumptuous meal. As all the speeches had been completed in the Chapel earlier we could all relax and enjoy a typical Irish meal of vegetable soup, spare ribs, colcannon and vegetables, washed down strategically by "white or red?" and dessert before heading back to the roads of Ireland.
It was a very full and
inspiring couple of hours and I'm sure Edmund Rice would have approved.