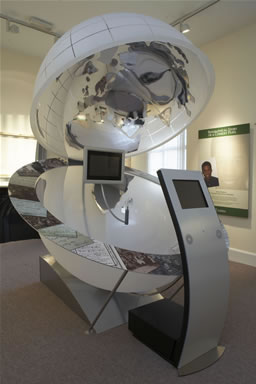 Officially opened in 2008, the Edmund Rice Heritage Centre tells the story of Edmund Rice, the Ireland in which he lived and the growth of his congregations throughout the world.
This modern museum has many captivating features including a multimedia tour of 18th century Waterford, complete with the sights, sounds and even smells of the city streets and dwellings.
One of the centrepieces of the museum is a facial reconstruction of Edmund Rice. Thanks to the miracle of modern science, visitors to the centre can travel back in time and come face to face with a laser-generated image of Blessed Edmund's head, made of resin, paint and clay. There's also a life size replica of his bedroom and a typical classroom in which he taught.
Please note that our museum is currently going through a transitional period and not all exhibitions are available to view every day.  If there is a specific area you would like to visit, please call us on 051-874390 or email reception@edmundrice.ie and we can advise you when it will be available.
Visitor Information
Opening Hours: 9.00am – 4.00pm Monday to Friday (Last admission 3pm), Closed Saturdays, Sundays & Bank Holidays.
Admission is Free!!!