International Edmund Rice Brothers in Mount Sion
An International Community of Brothers lives in the monastery in Mount Sion. Christian Brothers John Hearne from Waterford, Peadar Gleeson and Phil Ryan both from Tipperary and Addie Pinto from India together with Presentation Brother Kevin Mascarenhas make up the International Community at Mount Sion.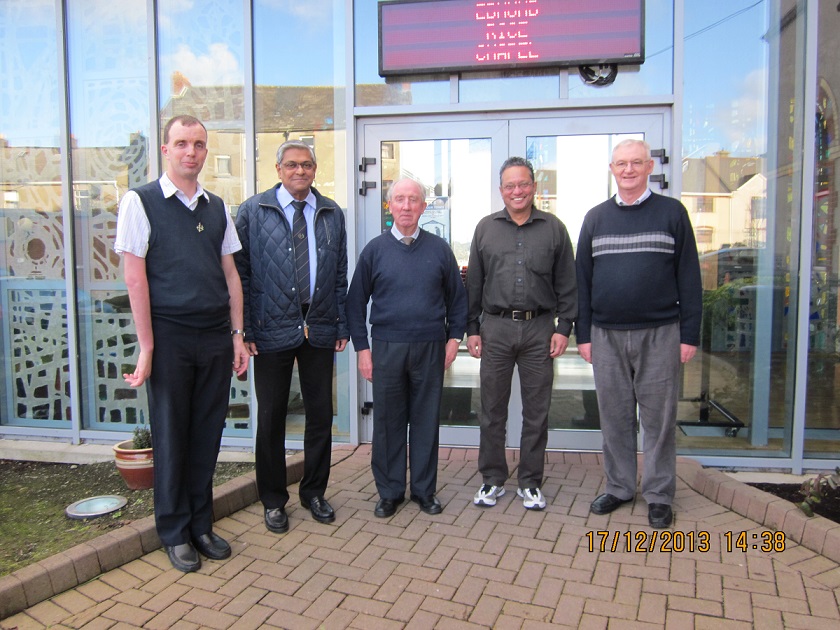 Br. John Hearne, cfc
Br. John Hearne was born in Tramore, Co. Waterford and received his early education in Tramore C.B.S.  He joined the Christian Brothers in 1962.  John has taught in primary schools in Greystones, Ss. Peter and Paul's, Clonmel, and Scoil Iosagain, Dublin.  After studying Irish, French and Catechetics in U.C.D. he taught in secondary schools in Dun Laoghaire, Youghal and Thurles.  Recently he taught in the Life Centre, Cherry Orchard.  For three years John served as Vocations Director.  He has also been involved in Boards of Management at primary and secondary level.  He served as Community Leader in Youghal, Thurles and Mount Merrion.  John joined the Mount Sion community in September 2012 and is glad to be back on home territory where he looks forward to following the fortunes of the Déise.
Br. Kevin Mascarenhas, fpm
Presentation Brother Kevin Mascarenhas, a native of Karachi Pakistan with Canadian citizenship, is the Director of the Information and Support Unit for new Communities in Mount Sion. He has been involved in community and voluntary section and has experience with homeless and refugees in inner city Dublin and Waterford. Kevin has a Degree in Theology, Spirituality & Pastoral studies along with qualifications in Information, Advice/Advocacy Practice and Social/Civil Information. He has changed five cultures since leaving his home which helps him empathise with new citizens and asylum seekers. Kevin has been part of the International Community since 2005.
Br. Phil Ryan, cfc
A native of Tipperary who joined the Brothers in 1982 and has been based in the following locations: North Monastery Cork, St, Peter & Paul's Clonmel, Blarney Street Cork, Moyross Limerick, Mount Sion Waterford (third time have been based here) Onslow Gardens Cork, Portlaoise and Emmaus Swords Co. Dublin. Has mainly been working with Early School Leavers along with some relief teaching in both Secondary and Primary Schools. Involved in business initiatives in the past and currently in Mount Sion. Br. Philip, having been involved in the International Community from the outset in 2005, returned to Mount Sion in October 2009.
Br. Addie Pinto, cfc
A Christian Brother from India, who was born in Mumbai (formerly Bombay) and joined the Indian Province of the Christian Brothers in 1972.  After completing his basic degree in the North Eastern part of the county, he spent his years teaching in Goa, Shillong, Kolkata, Rajasthan, Mumbai, Asansol, Kurseong and Chandigarh, and was principal in some of these schools.  From 1990 to 1996 he was the principal of St. Edmund's College, a third level degree college in Shillong.  He spent 5 years in the Congrations Mission in Myanmar (formerly Burma).  Before joining the International Community in Mount Sion, he was the Director of "Edmund Rice Education, India".
Br. Peadar Gleeson, cfc
Br. Peadar from Tipperary has taught both Primary and Secondary level in Ireland for many years. Ten years teaching in Mount Sion Primary School, combined with eight years in Formation, eight years as Secondary School Principal in Co. Clare are amount his experiences. He has special interest in students who find it hard to cope with mainstream education and has seven years experience in this. Peadar came to the International Community in Mount Sion in 2007 and works in hospitality.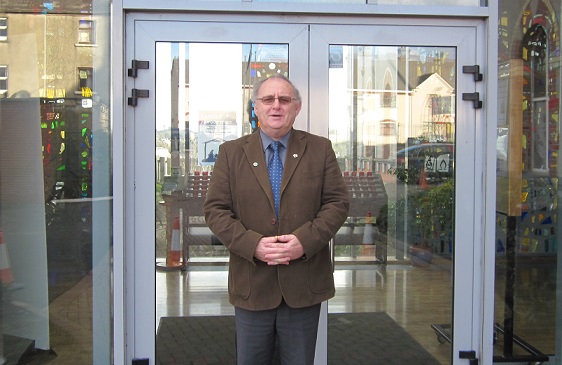 Br. Seamus Whelan, cfc – CEO
Seamus was born in Nenagh, North Tipperary, in 1946 and attended the local national school and Saint Joseph's CBS primary and secondary schools before transferring to the Christian Brothers Juniorate, Carriglea Park, Dun Laoghaire to complete his secondary education.  After novitiate, in 1963, Seamus attended MIE (Marino Institute of Education) where he qualified as a Primary teacher.  Seamus holds an NT diploma in Education from MIE, BA & Higher Diploma degrees, an MSA (Masters in the Science of Administration) from the University of Notre Dame, South Bend, Indiana, USA and an MA in Theology from Lampeter University, Wales.
Altogether, Seamus spent 36 years in the Irish Education system: eleven as a Primary teacher and the remainder in the secondary system.  During his time in secondary, Seamus was a school principal for fourteen years; first in Rice College, Ennis (1984 – 1990) and afterwards in the Walsh Memorial School, Tralee (1994 – 2002).  He also served as a Community Leader in Ennis for six years and as a member of the Ennis VEC for one year.  He was chairman of the Midleton CBS Board during four years as a teacher in the North Monastery, Cork.  Seamus resides and teaches in the Brú na Cruinne Spirituality & Cosmology Centre, Carrick-on-Suir.  On the 1st January 2013, he was appointed Executive Director (CEO) of E.R.I.H.C. Ltd, Mount Sion, Waterford City.  His appointment is for three years.