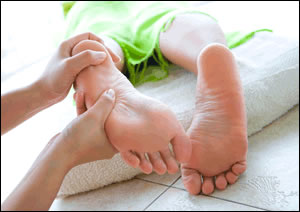 Reflexology is a complementary, natural holistic theraphy. The feet and hands are mini maps of the body's anatomy. The Reflexologist works the reflexes on the feet to stimulate the body's own healing process and helps restore balance in mind, body and spirit.
It has many benefits – incredibly relaxing, helps reduce stress and tension, improve circulation, eliminate toxins and calm the nervous system. It can enhance your whole sense of wellbeing and very importantly offers time out from modern busy lives.
I have started in The Bakehouse, The Weliness Centre, Mount Sion, Barrack Street on Wednesdays from 10 – 6pm. Treatment takes 1hour approximately.
To Book please call: 086 6493366
Ann Power 
Reflexologist